How to apply
If you would like to apply for a TEFL course, we suggest that you please first contact us at info@teflgreece.com to check availability. If you include your telephone number and a convenient time, we're always happy to call you back to deal with any queries you may have.
To fill out an online enrolment form, please visit
http://www.vialingua.org/enrollment.asp.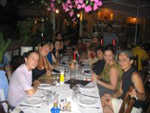 Please note that if you include your credit card details for payment of the deposit to secure a place, we will only process your payment if we are happy to accept you onto your chosen course and have a space available. In this case we will confirm acceptance and receipt with you promptly.
We understand that it isn't always possible to answer every question you may have on our website. We also appreciate the difficulties people may have in reaching someone by telephone from different countries and time-zones all around the world. If you would like a member of our staff to call you at home at a time convenient to you and discuss any particular queries you may have before making a decision about where and whether you take a TEFL course, please just click the link below.