Who are Via Lingua
Via Lingua is a global network of independent language schools dedicated to raising the standards of education worldwide. This international grouping contains members ranging from the Benedict School of St.Petersburg, Russia to the school which began the concept back in the 1980s, Encounter English of Portugal.
The teacher training program presented by the Via Lingua group is a CTEFL: Certificate of Teaching English as a Foreign Language. This qualification, often referred to simply as a TEFL, but also a TESOL certificate, gives the bearer the right to work virtually anywhere in the world. There is no question that in today's world English is needed by any non-native speaker of English in order to be successful and consequently there is a huge demand around the world for well-qualified teachers of English a foreign language. At Via Lingua, we believe that we have the academic ability combined with the right amount of practical teaching knowledge and have put it together in our CTEFL course. This enables us to best equip any would be teacher of English, whether their reasons be that they want to travel or simply give something back to society.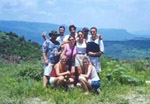 The qualities that Via Lingua has, it has because it is both a collective - of well-established and prominent language schools from all around the world - and a single unit offering the same integrated and structured course wherever you choose to take it. Through our system of both internal moderations (conducted by our Academic Director, Steven Patten) we are able to offer you the best of both worlds: a structured and highly developed international course and local input on a practical level from some of the world's biggest and best chains of real EFL language schools.
To see a full list of our Partner Schools visit our website at www.vialingua.com
The fact should not be confused that Via Lingua teacher training course will be any different in any of its locations. For this reason each center has a dedicated course director on site, who is responsible to Via Lingua Head Office in Florence, Italy. The aim of the group is to produce the highest quality EFL teachers and to achieve this each school strives to maintain the standards of not only the course curriculum, but also the underlying principles of the group.
We understand that it isn't always possible to answer every question you may have on our website. We also appreciate the difficulties people may have in reaching someone by telephone from different countries and time-zones all around the world. If you would like a member of our staff to call you at home at a time convenient to you and discuss any particular queries you may have before making a decision about where and whether you take a TEFL course, please just click the link below.