Getting here
Getting here is not quite as straightforward as, say, to Prague or Barcelona. However, we've done everything we can to make it as simple and inexpensive for you as possible and we think you'll agree on arriving that it's worth the effort!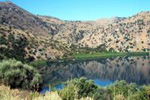 We recommend that you book a flight into Athens International Airport (E. Venizelos) on either the Friday or the Saturday before the course start date (always a Monday). To make your way to Crete transport is normally by ferry from Piraeus to Chania on the Friday or Saturday night prior to the course start date. The ANEK lines ferry usually leaves at night from Athens and arrives in Chania at 6:00 a.m. If you prefer to fly directly into Hania (recommended if you don't enjoy sea travel or if you have a large amount of luggage to carry) then we can of course meet you on arrival at Hania airport at any time.
During the summer months there are a wide range of charter flight companies flying directly into Hania from most European destinations. If you need any help in book a flight or in arranging somewhere to stay in Athens for a night or two (if you're arriving there early) please just let us know.
We understand that it isn't always possible to answer every question you may have on our website. We also appreciate the difficulties people may have in reaching someone by telephone from different countries and time-zones all around the world. If you would like a member of our staff to call you at home at a time convenient to you and discuss any particular queries you may have before making a decision about where and whether you take a TEFL course, please just click the link below.